Scotts drops phosphorus from lawn fertilizer
May 10, 2013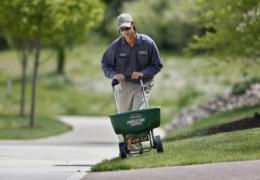 "Scotts Miracle-Gro has removed phosphorus from its popular Turf Builder line of lawn fertilizer to help reduce the type of harmful algae blooms that have plagued waterways such as Grand Lake St. Marys and Lake Erie.
The Marysville maker of lawn-and-garden products sees the move as a milestone for its industry, which it says is partly responsible for the phosphorus runoff that feeds one of the nation's most costly and challenging environmental problems — nutrient pollution.
"As consumers feed their lawns this spring, they should know they can get great results from our products while also protecting and preserving our water resources," said Jim Lyski, Scotts' chief marketing officer, in a written statement.
Harmful algae blooms in coastal areas of the United States are estimated to have a yearly negative economic cost of at least $82 million, mostly because of their effects on public health and commercial fisheries, according to a 2006 report by the National Centers for Coastal Ocean Science."