California hit by big freeze
January 12, 2013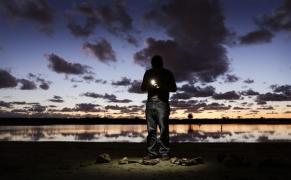 Californians are bundling up with sweaters and gloves and stocking up on firewood as they brace for several nights of freezing temperatures.
The National Weather Service is forecasting morning frost on San Diego beaches. Big Sur, on the central coast, prepared for daytime highs almost 20 degrees below Boston's. Even the snowbird haven of Palm Springs faced the possibility of freezing temperatures at night.
In addition, San Diego zookeepers turned up the heat for chimpanzees and some farmers broke out wind machines and took other steps to protect crops from freezing.
Freeze warnings were in effect in San Diego County valleys and deserts Saturday morning with lows in the 20s and 30s, the weather service said.
Photo Credit: Gregory Bull / AP