Bill Gates finds fertilizer fascinating
May 22, 2013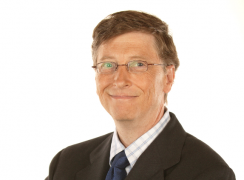 "Fertilizer. It's not the most scintillating of conversation starters, not something one would bring up to impress a young lady on a first date, perhaps. It's not the first thing one would think of when sitting down to a fancy meal in one of Dallas' finest restaurants. And one would be foolish to believe fertilizer would concern a mother shopping for blue jeans or tee-shirts for her children.
But perhaps it should be. Bill Gates believes so.
Yeah, that Bill Gates, the one responsible for the computer system that we alternately praise and curse, depending on which version we have at the moment and how familiar we are with how it works. That Bill Gates, the one with more money than Croesus and considered by some to be one of, if not the, most important figures in recent history.
Bill Gates extols the value of fertilizer
Photograph from Microsoft