Ohio House OKs bill regulating fertilizer runoff
March 11, 2015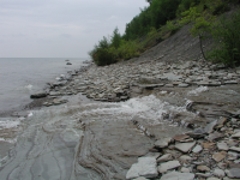 COLUMBUS — Promising that it's just one more step, the Ohio House today unanimously approved a bill designed to control agricultural fertilizer runoff that contributes to algal blooms on Lake Erie like those that briefly contaminated Toledo's water supply last summer.
Critics characterized the bill as not strong enough while backers of its provisions argued that the state has to proceed carefully so as not to undermine the state's number-one industry.
But in the end all came together to support the bill, knowing that it's likely to have little effect, if any, on this year's algal bloom season.
Rep. Teresa Fedor (D., Toledo) told her colleagues about awakening on the morning of Aug. 2 to the warning that Toledo area residents "can't touch the water … It was so scary."
"We're taking such a baby step on this…," she said. "This is real stuff … I implore you to do much, much more and take the politics out of it."
Rep. Brian Hill (R., Zanesville), a farmer who chaired the committee that fashioned the bill, argued that agriculture "stepped up" even though it is only part of the problem causing the nutrient load in Lake Erie.
"I'm regulating my own industry," he said. "This is what I do … I know (House Bill 61) doesn't go as far as some would like to see, but we all realize this is a beginning ... It really isn't politics to me. It's our number-one industry."
The bill restricts application of manure and chemical fertilizers at times when the ground is frozen, snow-covered, or otherwise saturated and when the forecast calls for significant precipitation. In some cases, that means farmers will have to invest in storage facilities to keep manure until it can be spread.
Read more from The Blade