No More Gyp Stacks? Engineers Developing Way To Make Fertilizer Without Nasty By-Product
December 29, 2016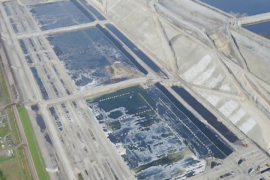 FORT MEADE, Fla. - When that radioactive sinkhole opened up earlier this fall in Mulberry, it drained more than 215 million gallons of toxic water from what's known as a phosphogypsum stack, or 'gyp stack' for short.
Gypsum is the necessary evil in making fertilizer — it's the toxic waste you can't avoid.
But that might not be true much longer.
Deep in the far-back country of Polk County is a group of engineers possibly sitting on the future of fertilizer.
"It's terribly exciting," said Tip Fowler, the CEO of JDC Phosphate in Fort Meade.
Before we break-down the science of this meticulous process, let's start with why people in central Florida should care.
According to a DEP e-mail ABC Action News obtained, the toxic sinkhole at Mosaic's New Wales plant in Mulberry was the "fourth or fifth sinkhole within a gyp stack."
One official even wrote in an e-mail that "I'm thinking gyp stacks aren't entirely compatible with Florida Geology."
A spokesperson at the DEP pushed back from that comment, insisting that it does not believe gyp stacks are a concern.
But what if the industry stopped using gyp stacks all together?
"We are very excited to find an alternative that does not produce any phosphogypsum," said Fowler, with a beaming grin.
He and his team at JDC Phosphate have spent the last decade perfecting their demonstration plant in Ft. Meade.
Long story short, it uses heat in a massive kiln to extract phosphoric acid from phosphorous rock, and then uses that to make fertilizer.
Instead of producing toxic gyp stacks that dot the landscape around Polk County, the new way being developed would produce materials you could use in road construction.
"They are completely benign," Folwer insisted, holding a handful of tiny rocks.
The company calls them "J-Rox".
The small, non-hazardous stones could be sold and put to use in a variety of ways.
"It really is amazing. It's a win-win for the industry, regulator, and the public," Fowler said.
There are currently 24 gyp stacks in Florida. In fact, you can see a handful of them from a top the JDC demonstration plant — even the one where the toxic sinkhole formed a few months ago.
The new process still has a lot of testing a fundraising ahead, but if successful, it could dramatically change the industry.
And possibly put an end to environmental disasters like the toxic Mosaic sinkhole.
Read more from ABC Action News.