Fertilizer Use to Surpass 200 Million Tonnes in 2018
February 17, 2015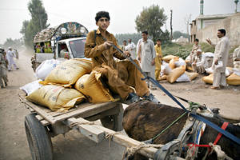 "16 February, 2015, Rome - Global fertilizer use is likely to rise above 200.5 million tonnes in 2018, 25 percent higher than recorded in 2008.
World fertilizer consumption will grow by 1.8 percent a year through 2018, according to FAO's new report "World fertilizer trends and outlook to 2018."
At the same time "the global capacity of fertilizer products, intermediates and raw materials will increase further," the report said.
As the potential to produce fertilizers will outpace their use, the global potential balance - a technical term measuring the amount available over actual demand - will grow for nitrogen, phosphate and potash, the main three soil fertilizers.
Global use of nitrogen, by far the largest fertilizer base, is projected to rise 1.4 percent each year through 2018, while phosphate use will increase 2.2 percent and potash 2.6 percent. In comparison, the supply of those three critical components is expected to grow by 3.7 percent, 2.7 percent and 4.2 percent per annum, respectively, according to FAO's outlook report.
The report does not forecast future prices, but notes that fertilizer prices, after a surge in 2011, were broadly lower in mid-2014 than in 2010.
Nitrogen: growth and volume
Demand for nitrogen fertilizers is expected to grow fastest in Sub-Saharan Africa, at 4.6 percent a year. However, as current usage there is low, the region will in 2018 use only 340,000 additional tonnes of nitrogen than in 2014, accounting for less than five percent of the projected global increase.
In East and South Asia, which combined account for 60 percent of all nitrogen fertilizer use, growth over the next four years will be moderate, but account for 3.3 million additional tonnes in volume terms.
North American farmers are expected to use an additional 300,000 tonnes of nitrogen fertilizer in 2018, reflecting an annual growth rate of 0.5 percent, while Western European farmers are set to reduce their use by 50,000 tonnes, according to FAO's projections."
Read more from Food and Agricultural Organization of the United Nations