A View from Shanghai
May 26, 2009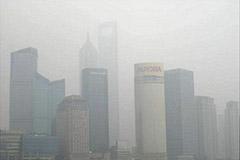 We write this post from Shanghai as an unseen morning sun rises shrouded by dense smog. We are here for the IFA's 77th annual conference in one of China's most modern cities. Shanghai is a showcase of China's future, with spectacular scale, architecture and planning. It is also a showcase for a new chapter in the Industrial Revolution, seemingly unbridled growth at an astonishing pace.
As an old "Asia Hand" we are able to benchmark this remarkable progress, but we also ask ourselves...at what price?
We have been here for three days and have yet to see the sun.
An article in the 25 May 09 edition of Business Week further frames the issue:
"China's unprecedented growth in recent years has come at a terrible price. Two-thirds of its rivers and lakes are too polluted for industrial use, let alone agriculture or drinking. Just 1 in 100 of China's nearly 600 million city dwellers breathes air that would be considered safe in Europe. At a time when arable land is in short supply, poisoned floodwaters have ruined many productive fields. And last year, ahead of most forecasts, China passed the U.S. to become the world's largest source of greenhouse gases."
One could argue that China's environmental policy is none of our business...but in fact, it is. Our own politicians in Washington are at this very moment feverishly fashioning an environmental bureaucracy that would make any communist central planner proud.
There is no question that this policy will result in the outsourcing of even more of our pollution to China and to the rest of the developing world. So again we ask the question...at what price?