The Boston TFI Party
September 24, 2007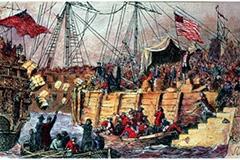 It has been a long time since Beantown has seen such an enthusiastic mob of revelers.
In the same measure it has been a long time since the fertilizer industry has seen such prosperity at all levels…production, wholesale, retail, and the growers.
Boston was an excellent venue for the TFI's '07 World Conference: convenient, great food, lots of history and culture, and an addicted sports town. Although somewhat isolated, the hotel was good, and the TFI's breakfast speakers were right on the money. We were particularly impressed by Jeffrey Sachs's presentation. No doubt he touched on the genesis of our industry's current and hopefully future prosperity. The trip to the Harvard Club for the closing cocktail party was also a great idea… and that compliment is from a guy who grew up being taught to hate Harvard.
There is not much we can add to the trade press's hyperbole on market conditions, e.g. "Market still waits for urea tender announcement from India, but sales reported to be being made at higher and higher prices."
Conventions are a series of vignettes. For us the most telling was the quiet side bar admission by a most seasoned buyer that he was just a "price taker" these days. Even though whispered, you could tell he didn't like the taste of those words.
Finally the really big news at the convention… the one that had all of the trade pissing their pants… was the announcement that CF was purchasing 50% of Keytrade. The importance of this news, in our opinion, is not just our friend Melih's good fortune but the fact that CF perceives that there is significant value in having access to the Global Fertilizer Market.
"Goods and services are increasingly global, even if your market is purely regional, purely local."
Talking About Tomorrow - Peter Drucker - The Wall Street Journal - 1 January 2000