ResponsibleAg auditor course recognized by BEAC
January 7, 2015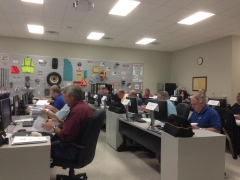 "The Asmark Institute announced the ResponsibleAg Auditor Training Course has received recognition from the Board of Environmental, Health and Safety Auditor Certifications (BEAC). The course is designed specifically for auditors who intend to perform facility assessments under the ResponsibleAg Certification Program. BEAC's recognition of the course is based on a comprehensive evaluation of course content, training materials, course environment and instructor qualifications. The ResponsibleAg Auditor Training Course joins other training programs recognized by BEAC such as the American Chemistry Council's Responsible Care®, SOCMA's ChemStewards and The Auditing Roundtable courses.
Brian Miller, CPEA and Compliance Assurance Specialist with Agrium and Fred Whitford, Ph.D., Coordinator of Purdue University Pesticide Programs, are the lead instructors for the course. Together they bring fifty years of EHS experience backed by more than seventy years of experience in agriculture. "We couldn't be more pleased than to be working with instructors of this caliber," said Billy Pirkle, Chairman of ResponsibleAg. "They are each nationally recognized for their work within, and on behalf of the agricultural industry."
At the heart of the ResponsibleAg initiative is the goal of providing accurate and credible assessments consistently across the entire group of carefully trained and credentialed ResponsibleAg auditors. Each auditor must successfully complete this course before applying for credentials under the ResponsibleAg Certification Program."
Read more from Ag Professional.