Fertilizer prices look to rise by late summer
May 11, 2016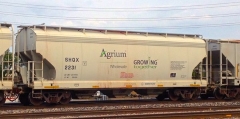 "CNS Canada — A rise in prices for soybeans and other crops could make fertilizer more expensive in the coming months, according to a major player in the industry.
In the May market report from the Mosaic Co., the company credited the rally in agricultural commodity prices, the strengthening of key currencies and various Indian subsidies and Brazilian political dramas as helping raise the prospects for a rebound in nitrogen, phosphorous and potash values.
'We've seen a big rally in soybean prices," explained Michael Rahm, vice-president of market and strategic analysis with Mosaic in Minnesota, "and we've seen decent increases in many of the ag commodity prices that we think underpin good demand prospects.'
Fertilizer usage north of the border is keeping steady according to two prominent producers on the Prairies.
'Fertilizer isn't cheap, but prices have been flat through most of the winter," said Doug Chorney, a former president of Keystone Agricultural Producers who farms north of Winnipeg. "I bought most of my fertilizer in the winter and prices have not changed dramatically since then.'
Another farmer says despite excessively dry conditions in Alberta, he hasn't seen anyone cutting back on fertilizer usage this spring."