Critics of Gates' ag programs bring the battle to Seattle
October 13, 2014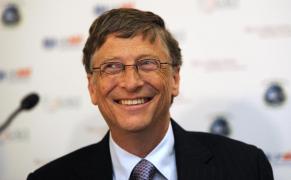 "In Kenya, where he works with small farmers, Daniel Maingi "failed miserably" in his attempts to connect with agricultural organizations funded by The Bill & Melinda Gates Foundation.
So he and fellow African activists from Zimbabwe, Nigeria, South Africa, Uganda and Ethiopia are bringing their message to Seattle, headquarters of the world's richest philanthropy. At a Town Hall event Sunday, The Global Struggle for Food Sovereignty, they will argue that the foundation's push for a "Green Revolution" in Africa is a flawed attempt to impose industrial agriculture at the expense of more ecologically sound approaches to farming.
Some of the visitors, including Maingi, will meet with staff at the Gates Foundation. But it won't be the high-level gathering he had hoped for.
"At least we tried," Maingi said.
The Gates Foundation spends nearly $400 million a year on programs to improve production and income for African farmers. Since 2006, the foundation has funneled nearly $420 million to its flagship agricultural initiative, a collaboration called the Alliance for a Green Revolution in Africa, or AGRA.
But the foundation's outsized spending and influence have raised concerns in Africa, just as some American educators have become alarmed over the foundation's influence on the U.S. education system.
"It's important that these voices be heard," said Heather Day, of Seattle-based AGRA Watch/Community Alliance for Global Justice, an organizer of the Town Hall event and a five-day summit between African and American organizations seeking to persuade the Gates Foundation to change course.
While the goal of helping African farmers is laudable, the "Green Revolution" approach is based on Western-style agriculture, with its reliance on fertilizer, weed killers and single crops, such as corn, Maingi said.
But much of Africa is so dry that it's not suited for thirsty crops, and heavy use of fertilizer kills worms and microbes important for soil health. "The model of farming in the West is not appropriate for farming in most of Africa," Maingi said."
Read more from The Seattle Times
Photograph from Forbes