Katrina
August 30, 2005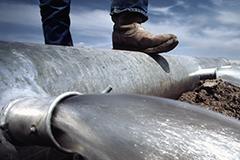 There is not much we can add in the way of commentary about this storm in its entirety, as it is already getting 24 hour coverage by the mainstream media. By all measures, it appears to be a disaster of monumental proportions. A Weather Channel slide showposted this morning graphically depicts the magnitude of the devastation.
What we can say is that the impact on the U.S. fertilizer industry is just beginning to unfold. We were already in trouble prior to Katrina; nitrogen prices were dangerously high and still had not fully reflected the USD 10 mmbtu natural gas prices that were on the horizon for the winter months. Buyers were resisting, placing orders by the truckload.
As the storm approached, the Henry Hub1 was closed by mid-day on Sunday as was most other petrochemical production in the region. Initial reports indicate that damage to the region's petrochemical infrastructure has been extensive. This gave the natural gas traders red meat for breakfast on Monday morning, as they promptly spiked spot prices up USD 2 mmbtu on the opening. Prices did ease a bit as the day progressed...production is down...but so is consumption.
Mississippi Phosphates in Pascagoula reported first that they were shutting down and evacuating to higher ground inland. As of this morning, CNN reported that the town of Pascagoula was still cut off from the outside. Mosaic also has shut their phosphate production at Faustina and Uncle Sam. Finally, CF Industries reported Monday that their Donaldsonville complex had been temporarily shut down completely. The usually telegenic PotashCorp has been less visible. We are not sure if their recently restarted Geismar plant was able to knock off the accumulated rust before it too was shutdown.
Looking past production issues, an even more significant concern is the condition of the Mississippi River and the entire distribution infrastructure within and on its banks. Flooding is extensive so all river side storage and inventory is at risk. Katrina seems to be tracking the river system north. Memphis is now getting hit hard. At least the parched Ohio region will get relief.
Shoaling all along the river system will be a major issue. The bar at the mouth of the Mississippi is closed and could be closed for some time. There is just no news available on this score as all of the NOLA shipping community has evacuated. Those who remained are now cut off. The Corp of Engineers will no doubt focus on levee repair to prevent further damage to New Orleans.
In summary, the U.S. fertilizer has taken a major body blow. Key production facilities are down, and when they restart, they are facing prohibitive natural gas costs. At the same time, the major distribution artery for imported tonnage is closed for an indefinite period. Where we go from here is anybody's guess.