Rain, nitrogen and the 2013 corn crop: How to prevent N loss
June 12, 2013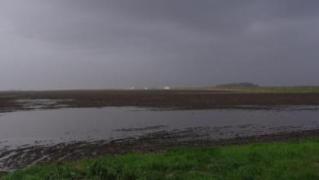 "Growers need to evaluate their situation to determine best nitrogen practices as wet weather continues and nitrogen loss becomes a possibility.
For many, the rush to get the corn crop planted this year meant modifying or abandoning nitrogen application plans before or after planting, or before tillage. It's likely that many acres that have remained wet have not had a nitrogen application, says University of Illinois crop sciences.
"Spring sampling has shown that, as expected, nitrogen left over after last year's drought has moved down in the soil, and some of it has moved out of the field through tile lines following the rains this spring," Nafziger said. "So, as is typical in Illinois, soils this spring had little nitrogen left over from last fall, and crops will need nitrogen from both soil organic matter and from fertilizer in order to meet its yield potential."
For growers wondering whether or not nitrogen applied last fall or early this spring will be available for this year's crop, Nafziger said samples taken this spring following fall application show that a considerable amount remains in the top two feet of soil. "Much of it is in the nitrate form now, which is the form subject to movement down in the soil with water," he said. "In areas where rainfall has been heavy, it's likely that some of this has moved down by now."
Even if nitrogen has moved down into the soil, Nafziger said that does not necessarily mean that it will remain unavailable to the crop."
Read more from Farm Industry News