Many Fertilizer Plants Are Poorly Located and Regulated, Says Report on 2013 Blast
February 1, 2016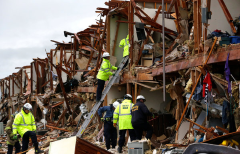 "HOUSTON — Nearly 20 fertilizer plants in Texas and others nationwide have the same dangerous proximity to schools, parks, nursing homes and housing as the one that exploded in the Central Texas town of West in 2013, federal officials said in releasing a final report on the blast Thursday.
The proximity of homes and schools to the plant in West contributed to the widespread damage and death caused by the blast, and a lack of regulations has put other communities at risk of another disaster, the officials said. Fifteen people died and more than 260 others were injured in the explosion.
Nearly three years after the deadly conflagration, the officials with the United States Chemical Safety Board discussed the findings of their final investigation report on Thursday in Waco, 20 miles south of West. The 265-page report, released this week, found a series of shortcomings in federal and state oversight, as well as in the plant's handling of the fertilizer and the training of the responding volunteer firefighters. And it warned of the dangers of the locations of fertilizer plants in Texas and around the country.
For decades, West had slowly developed schools, parks, nursing homes and housing around the plant — the nearest cluster of homes was about 370 feet from the property line and the West Intermediate School about 200 feet. The majority of those injured were within 1,500 feet of the blast."
Read more from The New York Times