Investment in fertilizer industry hits $4.5 billion
December 7, 2016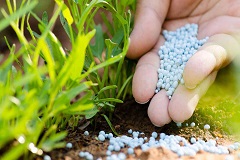 "The African Fertilizer and Agribusiness Partnership (AFAP) has disclosed that investment in the fertilizer industry has risen to about $4.5 billion.
The Chief Executive Officer of AFAP, Jason Scarpone, who made the disclosure during the Nigeria Fertilizer Roadmap Stakeholders Consultation yesterday, in Abuja, described the sub-sector's growth as an economic potential that has the capacity to reduce importation of food into the country.
Although he noted that fertilizer utilisation in Nigeria was still inadequate and significantly lower than what was obtainable in Kenya, the AFAP boss maintained that the challenges present new opportunities for the country to tap into.
"Despite the fall in oil prices, declining foreign exchange reserves and constrained availability of foreign currency in the last two to three years, the fertiliser sub-sector in Nigeria has attracted significant investments of about $4.5 billion from the private sector.
"Notable among these investors include but not limited to Notore, Indorama, and Dangote. Their respective investments have been the largest ever in the Nigerian agriculture sector," he said.
Scarpone pointed out that investments in the agriculture sector in Nigeria remains a beacon of hope for the transformation of millions of rural communities and in stimulating the broader economic growth in the country."
Read more from TheGuardian