Glencore's Deal for Viterra Clears Final Regulatory Hurdle
December 10, 2012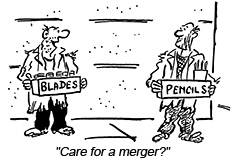 MONTREAL — The $6.2 billion purchase of Viterra, Canada's largest grain handler, cleared its final regulatory hurdle after approval by Chinese authorities.
Glencore International, the leader of the takeover consortium, said Friday that the Ministry of Commerce in China had approved the transfer of Viterra's only asset in that country, a canola oil seed crushing plant operated in a joint venture with a Chinese trading company.
The acquisition will make Glencore a significant force in agricultural trading, augmenting its considerable strength in minerals, oil and metals.
Glencore, which first announced the merger in March, has said it would transfer some of Viterra's assets to other companies to assuage Canadian concerns.
The Chinese approval comes on the same day that the government of Canada is expected to release its regulatory ruling on a $15 billion purchase of the Canadian oil producer Nexen by China National Offshore Oil Corporation, the Chinese state-run oil giant known as Cnooc.