Fall fertilizer application helps reduce risk of damage
October 6, 2014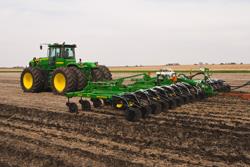 "With the annual debate between farmers on whether it's best to fertilize in the fall or the spring, Dr. Robert Mullen, PotashCorp director of agronomy and eKonomics contributor, provides five reasons that point to fall being the best time to fertilize.
Mullen's first reason to apply fertilizer during the fall is that it's logistically more manageable for farmers.
"When I say logistically, it's primarily from a farmer's perspective," he said. "Spring is typically our more wet season, so from a weather perspective, focusing on that fall application season gives them a better opportunity to get more done."
Mullen said there are a number of factors that make labor more available for fall fertilizer application.
"Once crops are harvested, we have things to take care of on the farm side," he said. "Historically, if we get the crop out in a pretty good time frame, with those fields open, a farmer has some time to work with his dealer, get purchases made and get that material applied. There's not as much to do in the fall, which leads to an availability of labor."
According to Mullen, another reason for fall application is that there is less soil compaction in the field.
"Historically, the fall tends to be drier," he said. "The reason we really focus on doing field activities when soils aren't wet is the issue of compaction. If we can confine our field activities to soils that are more dry, we will do less damage."
Mullen pointed out how compacted soil can result in tight soils and problems in developing root systems, which makes it hard for water to move into the soil.
"It's just a bad scenario," he said. "Focusing more field activities, specifically field fertilization in the spring, brings a greater risk of having to make applications on wetter ground. We need to take advantage of that dry soil."
Mullen's third reason for fertilizer application during the fall is that it's an ideal time for deep tillage."
Read more from Tri-State Neighbor.
Photograph from Ag Web