Difference Engine The Pacific's wayward child
July 29, 2014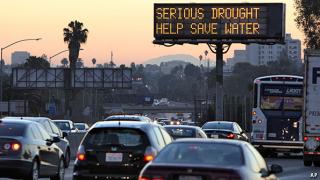 "THE DROUGHT afflicting California—now heading into its third year—has taken a turn for the worse. It seems that 2014 is shaping up to be the driest in nearly a century. Back in January, Governor Jerry Brown declared a state of drought emergency, and urged Californians to cut their water use by 20%. In February, with a good deal of political capital at stake, President Obama visited Fresno, the heart of the state's agriculture belt, with an offer of $183m in federal aid (see "The drying of the West", February 22nd 2014).
At the time, there was still hope that the weather pattern causing the prolonged drought—what meteorologists had dubbed a "ridiculously resilient ridge" of high pressure parked off the coast of the Pacific North-west—would break down by late spring. The polar jet stream could then veer south and drive ocean storms spawned in the Gulf of Alaska towards California, instead of pushing them east, to dump snow on Canada and divert frigid air into central and eastern parts of the United States (the source of last winter's brutal weather there).
It all depended on an El Niño emerging off the coast of South America. Such events occur when the temperature of the surface waters in the eastern part of the southern Pacific Ocean becomes higher than usual, and the air-surface pressure in the western Pacific is above average. When that happens, the ocean tilts upwards by a couple of feet (60cm) towards the east."
Read more The Economist