Climate Change's Bottom Line
February 2, 2015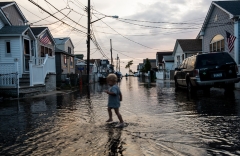 "It was 8 degrees in Minneapolis on a recent January day, and out on Interstate 394, snow whipped against the windshields of drivers on their morning commutes. But inside the offices of Cargill, the food conglomerate, Greg Page, the company's executive chairman, felt compelled to talk about global warming.
"It would be irresponsible not to contemplate it," Mr. Page said, bundled up in a wool sport coat layered over a zip-up sweater. "I'm 63 years old, and I've grown up in the upper latitudes. I've seen too much change to presume we might not get more."
Mr. Page is not a typical environmental activist. He says he doesn't know — or particularly care — whether human activity causes climate change. He doesn't give much serious thought to apocalyptic predictions of unbearably hot summers and endless storms.
But over the last nine months, he has lobbied members of Congress and urged farmers to take climate change seriously. He says that over the next 50 years, if nothing is done, crop yields in many states will most likely fall, the costs of cooling chicken farms will rise and floods will more frequently swamp the railroads that transport food in the United States. He wants American agribusiness to be ready.
Mr. Page is a member of the Risky Business Project, an unusual collection of business and policy leaders determined to prepare American companies for climate change. It's a prestigious club, counting a former senator, five former White House cabinet members, two former mayors and two billionaires in the group. The 10 men and women who serve on the governing committee don't agree on much. Some are Democrats, some Republicans.
Even when it comes to dealing with climate change, they have very different perspectives. Some advocate a national carbon tax, some want to mandate companies to disclose their climate risks. Mr. Page suggests that the world may be able to get by without any mandatory rules at all. Some members want to push investors to divest from fossil fuel companies. Several favor construction of the Keystone XL pipeline, while one member has spent more than $1 million lobbying to stop it. But they all do agree on one issue: Shifts in weather over the next few decades will most likely cost American companies hundreds of billions of dollars, and they have no choice but to adapt."
Read more from The New York Times.