China looking to curb fertilizer, pesticide use
December 8, 2014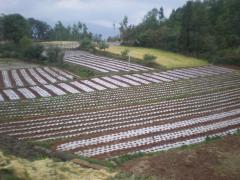 "BEIJING (Reuters) - China, the world's top producer of rice and wheat, is seeking to cap the use of chemical fertilizers and pesticides that have helped to contaminate large swathes of its arable land and threaten its ability to keep up with domestic food demand.
More than 19 percent of soil samples taken from Chinese farmland have been found to contain excessive levels of heavy metals or chemical waste. In central Hunan province, more than three quarters of the ricefields have been contaminated, government research has shown.
China is the world's top consumer of pesticides but almost two thirds of pesticides are wasted, contaminating both land and water, an environment official said last year.
"We need to be determined to control the use of fertilizer and pesticides," said chief economist at the agriculture ministry Bi Meijia.
Zhejiang province in eastern China plans to cut the use of nitrogen fertilizer by 8 percent in the next three years, Bi said, and the whole country could cap the growth in use of fertilizer and pesticides by 2020."
Read more from Yahoo news.
Photograph from Wikipedia